The Fourth of July is a weird holiday for me. Canada Day was merely three days before, and then all of a sudden I am supposed to celebrate the US of A. So I am content to enjoy the festivities and fun stuff, but still feel odd about it, since I'm not American.

We did the weekend up pretty traditionally I think as far as 4th of July celebrations go. Justin got home from work on Thursday and declared it to be too hot, so we grabbed our swimsuits and headed down to the new pool where we live. The old pool just had a big pool and a baby pool, where the new one has a splash park, slides, lazy river, you name it. Addison was super excited to go and swam like a little fish. We did too, but I decided that I am far too old to be going down psycho drop slides, plus they make my bathing suit top move around suspiciously. By the end of the night, Addison was still playing, and Justin and were kicked back in a couple of patio chairs. We got dinner on the way home and went straight to bed.

On Friday I talked Justin into taking me shopping. GUESS WHAT? It's Sidewalk Sale time at the malls. I love a good Sidewalk Sale like I love my mother. I didn't actually buy too much, but I did score some good deals, and there is another one at the better mall on Friday. NICE. After I had dragged Justin and Adds through the mall, we went down to the Freedom Festival (Yes folks, it doesn't get any more American than that.) To check out what was going on there. We blew all of our money on food and face painting, and went home two hours later with empty pockets and full bellies. I bought a $6 drink and then we had hot dogs and slushines, then had the most DIVINE roasted corn on the cob dipped in a VAT of butter. Mmmmmm. Best thing I have ever tasted, I told Justin I would take it home and marry it if I could. We did the fireworks thing that night, and Addison loved it, until the SPRINKLERS on the lawn we had spread our blanket on went off and we had to make a run for it.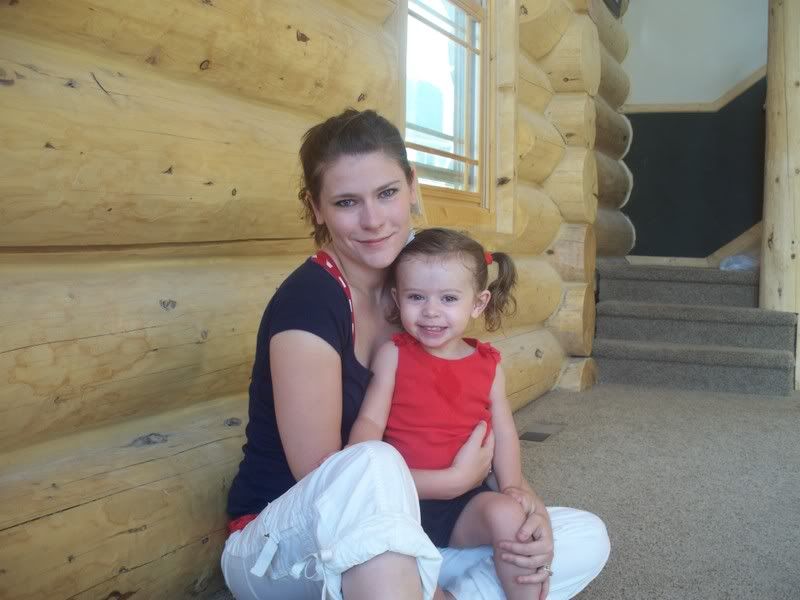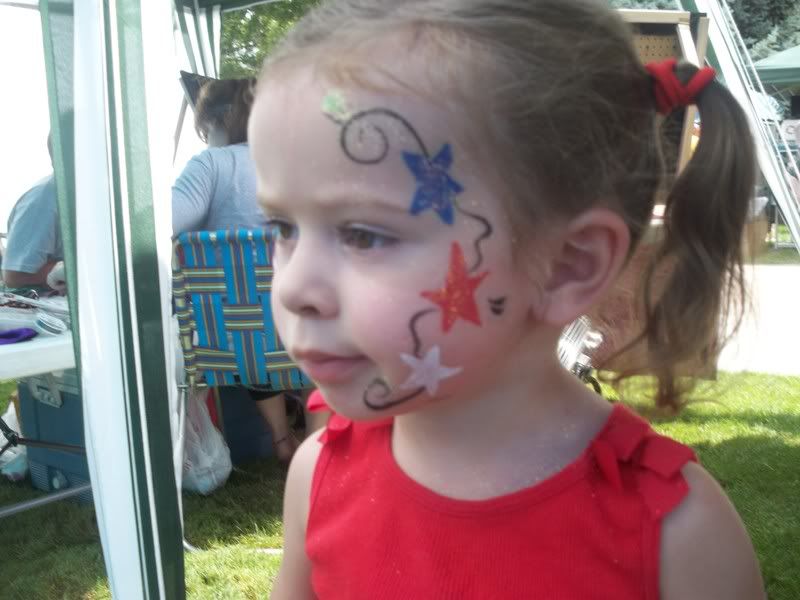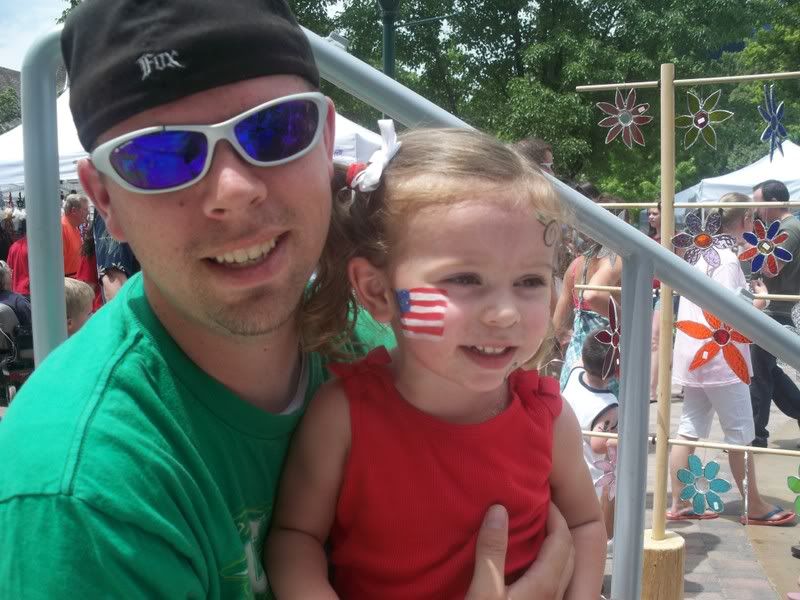 Saturday we messed around at the house not doing anything in particular, and finally decided to go to the cabin. The cabin is usually about 15 degrees cooler than the valley, and we were just sick of the heat. I had the bright idea to buy a kiddie pool on the way to put out on the deck, and I effectively spent the rest of the weekend laying out in the sun while Addison played, leaving me burnt and crispy and in immense pain.

Moral of the story - even if you're celebrating an American holiday, doesn't mean your pure white Canadian skin is.